The California Housing Market June 2010 by the Dr Housing Bubble Blog: Things are not getting better, they are getting much worse…
The latest data on new and existing home sales shows us evidence that housing has benefited from a bear market bounce but that has now come to an end.  The drop in existing home sales was sizable but the drop in new home sales came in at a record breaking figure.  The difference here comes from the large amount of distress inventory still moving at lower prices.  The amount of troubled mortgages still filtering through the system is large and gives us pause for caution.  Much of the boost can be said to have come from massive government intervention.  In California there is now money going to banks to match a principal reduction for those homeowners in distress.  In other words, the focus is on problems and not having a more stable market for housing.  Over the last year, we also saw many people moving off the sidelines spurred by low interest rates, tax credits, and the perception that housing had hit bottom.  For California, the data signifies that there will not be a bottom until at least 2012 and that is what we will examine in this article.
This is probably one of the most important questions going forward.  First let us examine California as it stands today: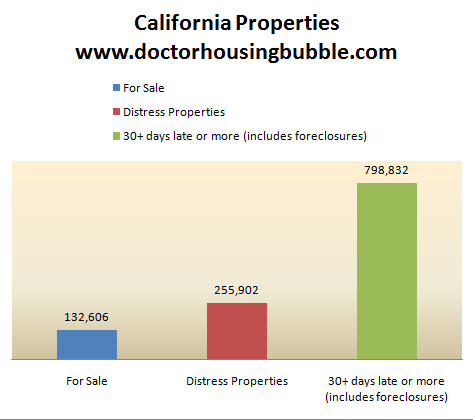 Let us go through each category above to make things more clear.  The for sale column is pulling data from the MLS.  This is data that the public can view either through a realtor or through one of the many sites available online.  The next column for distress properties includes all notice of defaults, properties scheduled for auction, and those that are in foreclosure.  As you can see between the differences from the "for sale" item to "distress properties" a large part of this real estate never makes its way to public view.  Finally, we know from banking and current mortgage data that 15 percent of California mortgage holders are at least 30+ days late or are in the process of foreclosure.  This is the most troubling data of all.  Nearly 800,000 properties show up here.  What this tells us is that we have a few years of working through this mess before finding any sign of stability.  Keep in mind a large amount of troubled mortgages have yet to be dealt with in the state.  The above should give you a sense of what we have today in California.
Let us continue the math.  Last month statewide, California had 40,965 home sales.  At the same time, 24,669 new notice of defaults were filed.  So let us do the math here:
40,965 – 24,669 =              16,296 homes cleared out of the massive inventory
Now depending on your perspective, if we only look at MLS data we have roughly 3 months of inventory in the state.  Looking at distress data we have over 6 months of inventory.  If we look at the broadest measure we have 19 months of inventory.  However, we are only looking at the current sales rate and keep in mind this is high because of tax breaks and also the current part of the selling season.  We also have to take into account that last month nearly 25,000 more properties are being put into the pipeline for future distress (not counting regular homeowners who want to sell).  Subtracting this out, we really cleared out about 16,000 properties for the month.
Assuming no new foreclosures (not likely) at the very earliest it will be mid to late 2012 before we have any semblance of a bottom in California.  Keep in mind that California is also battling a troubled state budget.  This will require new revenues (higher taxes) or more cuts (higher unemployment).  Both options are bad for housing going forward.
Double dip recession
I'm surprised that many in California are talking about a double dip recession.  In this state at least, we never got out of the recession to begin with.  All we need to do is look at the unemployment data to show us this: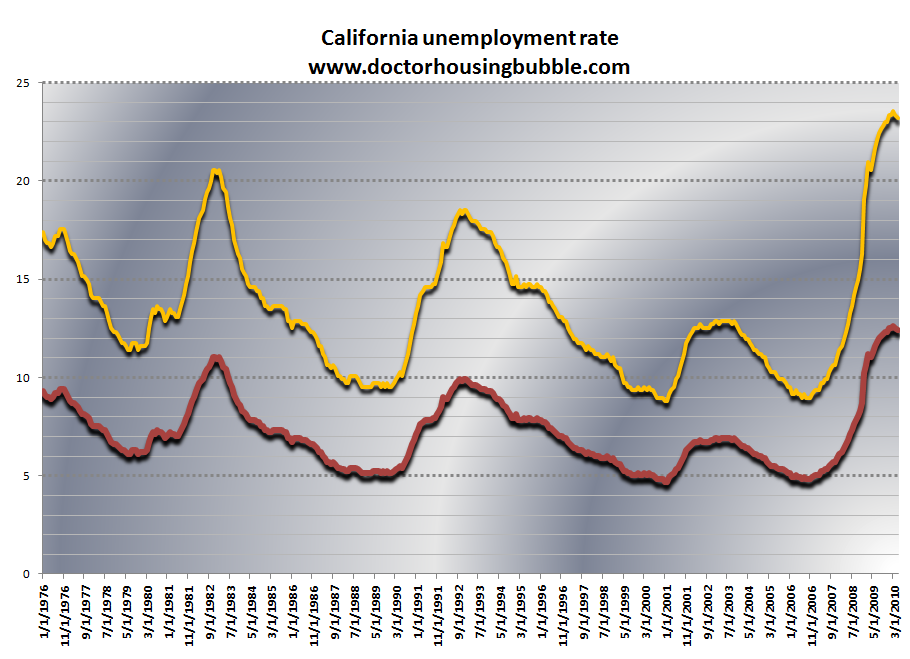 Does that look like we double dipped?  Unemployment is still sky high for the state.  Without a solid economy there is little prospect that real estate in California will somehow enter another golden era.  We have lost over 1 million jobs in the state since the recession started.  Even last month when we added 28,000 workers it will take us 35 months before getting back to pre-recession unemployment at this rate.  And looking at the data carefully, we see that the bulk of employment growth came from the government sector.  This provides more evidence that we are still at least two years away from any housing bottom.
Drag of shadow inventory
Looking at the first chart you realize that there is a tremendous amount of distress property on the market that is hidden from the public.  This large amount of shadow inventory will be a drag on California real estate prices going forward.  Nearly 800,000 mortgages in California are at least 30+ days late or are in the process of foreclosure.  Yet only 132,000 homes are listed on the MLS.  That is why it is hard for any honest realtor to tell you with a straight face that there is "only" 3 months of inventory so you need to move fast.  Most understand that the real market is full of troubled properties.  Plus, you realize that we still have thousands of homeowners not keeping up with their mortgages and many more being added per month.
We all realize the issues with Alt-A and option ARM products.  These are still out there and will not finish resetting/recasting until 2012 (at least the bulk).  But now, the bigger problem revolves around the larger prime market having major problems.  Fannie Mae and Freddie Mac are losing money left and right (which means we as taxpayers are losing money left and right).  FHA insured loans are plagued with sharply rising defaults and these make up about 4 out of 10 loans in California (this trend has held for nearly a year).
The massive drag of shadow inventory will keep a lid on real estate prices going forward.  Throw in the fact that higher priced properties have yet to adjust significantly and we have another market that will take a hit (i.e., Culver City, Pasadena, etc).
2012 bottom?
Predictions in this market are a losing game.  With the government intervention it is creating an artificial buffer to the correction.  Yet prices have fallen.  So things get dragged out.  When we look at the data as a whole it looks like 2012 at the earliest will be a bottom.  This doesn't necessarily mean a bottom in prices but a time when we will work through this massive amount of shadow inventory.  There is little reason to buy right now in many cities and renting is a much better option for many.  Until we work through these 800,000 properties, California is going to have a highly volatile market.  Buyer beware.