Unfortunately the storyline regarding housing is all too predictable.  For California, once the vice grips tightened around the option ARM and Alt-A universe in 2007 and 2008, the housing market in the state collapsed like a piñata in the subsequent years.  Now, all the mainstream analysts are "shocked" that new home sales have fallen into the abyss.  Thing are so bad, that new home sales on a seasonally adjusted basis fell to a record low level and Census data goes back to 1963.  When we chart this as you will see, this is a historic fall.  Yet this is all expected.  The removal of the federal tax credit and pent up demand moved forward caused a bear market bounce for housing.  All it took was one month worth of data to crush the entire idea that the housing market was somehow supporting itself.
To do the story justice, let us first examine the new home sales data: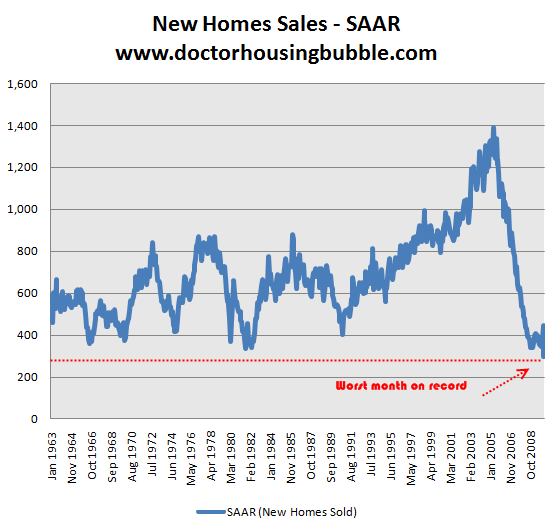 Source:Â  Census
This merely reflects the underlying weakness with housing but more importantly, the fragility of the overall economy.  Keep in mind that this tax credit in combination with FHA insured loans allowed many recent home buyers to jump into homes with practically zero down.  For this reason, there is now a new inventory of home owners that are walking on a razor's edge of financial peril.  FHA defaults have been skyrocketing due to the weakness in underwriting but also because the overall economy has not been fixed.  Too much time and money has focused on bailing out housing (what good did that do) and enriching the banking sector (which has "miraculously" done well in this crisis).  The housing market has merely been a charade for the public while banks setup protective barriers and funnel taxpayer money into their balance sheet to fix the gaping financial holes that they created.
Housing should be healthy because the economy is healthy.  Right now the government and Wall Street have it twisted.  They want housing to be healthy so the economy can be healthy.  And in more surprising news, it turns out that the tax credit has been abused: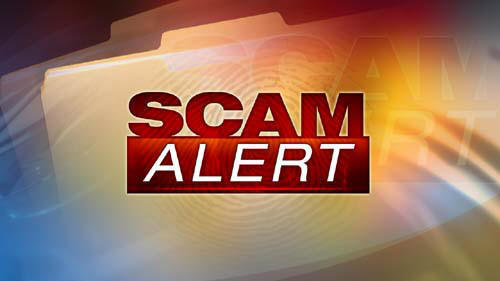 "(USA Today) Despite efforts by the IRS to combat scams, thousands of individuals — including nearly 1,300 prison inmates — have defrauded the government of millions of dollars in home buyer credits, Treasury's inspector general reported Wednesday.
The home buyer credit provided a federal tax credit of up to $8,000 for first-time home buyers for tax year 2008, the subject of the report. The credit, created to revive the housing market, was later extended to repeat home buyers. The latest credit expired with sale contracts signed as of April 30.
•1,295 prisoners, including 241 serving life sentences, received $9.1 million in credits, even though they were incarcerated at the time they reported that they purchased their home. These prisoners didn't file joint returns, so their claims could not have been the result of purchases made with or by their spouses, the report said.
•2,555 taxpayers received $17.6 million in credits for homes purchased before the dates allowed by law.
•10,282 taxpayers received credits for homes that were also used by other taxpayers to claim the credit. In one case, 67 taxpayers used the same home to claim the credit."
And what success do we have to show for it?  A record low amount of new home sales and foreclosures at peak levels (not exactly records you want to tout).  These are your tax dollars at work here.  If we look at the Southern California market we'll see that MLS inventory continues to spike upwards in the peak spring and summer selling season: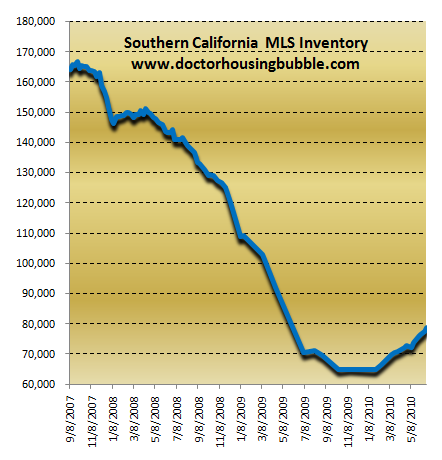 In more wasted money to failed policies, $1.5 billion (a pittance to the trillions stolen by the Wall Street crooks) is now being given to the kings of foreclosure states with California receiving the lion's share:
"(AP) According to the proposals from state housing finance agencies, the largest recipient of the funding is California, which will get nearly $700 million to assist about 46,000 borrowers.
California officials are asking for matching contributions from lenders for its programs, which provide subsidies to unemployed borrowers and those who have missed mortgage payments, and for reductions in borrowers' principal balances."
This is more nonsense.  Why not give money to unemployed renters?  Or what about helping to reduce debt for those who don't own but have debt in other forms?  What makes housing debt so sacrosanct?  If we are giving away money we don't have why stop there?  It isn't that the public really desires this, the banking PR machines want this to line their pockets and saddle taxpayers with more junk.  This game has been going on for decades.  And then you wonder why the U.S dollar has done this over the years: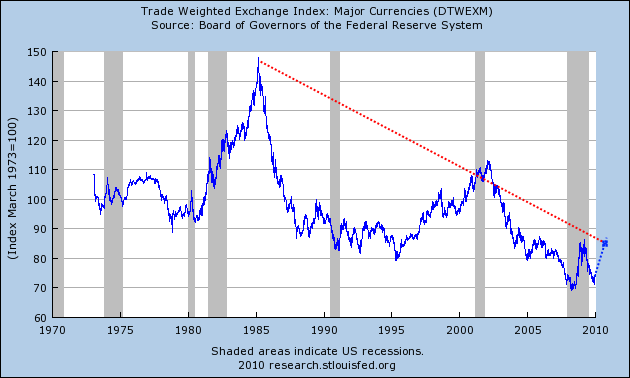 Sure we've seen the dollar spike up recently but this is only because the second largest reserve currency in the Euro is actually looking worse with their shenanigans.  Is that something to be proud about?  Over this time the amount of debt we have taken on and the amount we are taking on is putting more and more at risk for our future.  The Federal Reserve is concerned with preserving the security of a handful of banks even if this means keeping many people indentured to debt.  Now, government sponsored mortgage failure Fannie Mae is going to penalize those that walk away:
"Seven-Year Lockout Policy for Strategic Defaulters
WASHINGTON, DC — Fannie Mae (FNM/NYSE) announced today policy changes designed to encourage borrowers to work with their servicers and pursue alternatives to foreclosure. Defaulting borrowers who walk-away and had the capacity to pay or did not complete a workout alternative in good faith will be ineligible for a new Fannie Mae-backed mortgage loan for a period of seven years from the date of foreclosure. Borrowers who have extenuating circumstances may be eligible for new loan in a shorter timeframe.
"We're taking these steps to highlight the importance of working with your servicer," said Terence Edwards, executive vice president for credit portfolio management. "Walking away from a mortgage is bad for borrowers and bad for communities and our approach is meant to deter the disturbing trend toward strategic defaulting. On the flip side, borrowers facing hardship who make a good faith effort to resolve their situation with their servicer will preserve the option to be considered for a future Fannie Mae loan in a shorter period of time."
In other words, keep paying your mortgage on an overpriced asset or else you won't be able to purchase another overpriced asset in a 7 year time frame.  There is little reason to believe the housing market will stand on its own two feet.  So when we get additional data in the next few weeks expect more "stunning" news that home sales are falling and indicators turn weak again.