Dr Housing Bubble Blog describes global debt, mortgage delinquencies, housing volumes increasing as prices fall; and the inability to cure mortgage defaults across all fronts.
The current economy is based on smoke and mirrors pulled from the Wall Street bag of tricks.  This has been the worst May on record dating back to 1962.  Many Americans are finally waking up realizing that they have been scammed for the past decade and what seemed to be a recovery was merely a stock market going up for the benefit of a very few.  The market is largely operating with the same structure that led us into the crisis so it should be no surprise that we have days where the market can seemingly fall 1,000 points with really no explanation.  And if we look at the consumer mortgage market, we will find $10.2 trillion in mortgage debt outstanding.  Over 14 percent of mortgages in the U.S. are either in foreclosure or 30+ days late.  The show ends once the bag of tricks is removed.
So what caused all this volatility in May?  Part of it has to do with global debt problems.  These no doubt shook the markets.  But if we look at housing, two crutches for housing were removed.  The Federal Reserve finished buying up $1.25 trillion in mortgage backed securities and the government tax credit ended.  In fact, you can see problems already hitting the market almost in real-time.  Sales have fallen since much of the demand was pulled forward.  You can expect this trend to reflect in home sales data for the upcoming months since many reports look at various points of the home buying experience and this can take 30 to 45 days to report.
Inventory is growing: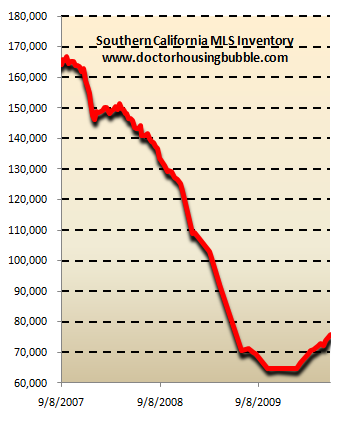 Over two weeks Southern California added over 2,000 homes to the MLS.  This has been the biggest move over two weeks since inventory started spiking up from the trough of 2009.  Why do you think that is?  Could it be that many bought simply because of the tax credit?  Or could it be because programs like HAMP have now failed and some of these properties are now making it to market?  Whatever the case may be, inventory is going up.
Yet a more ominous problem is the inability to cure mortgages: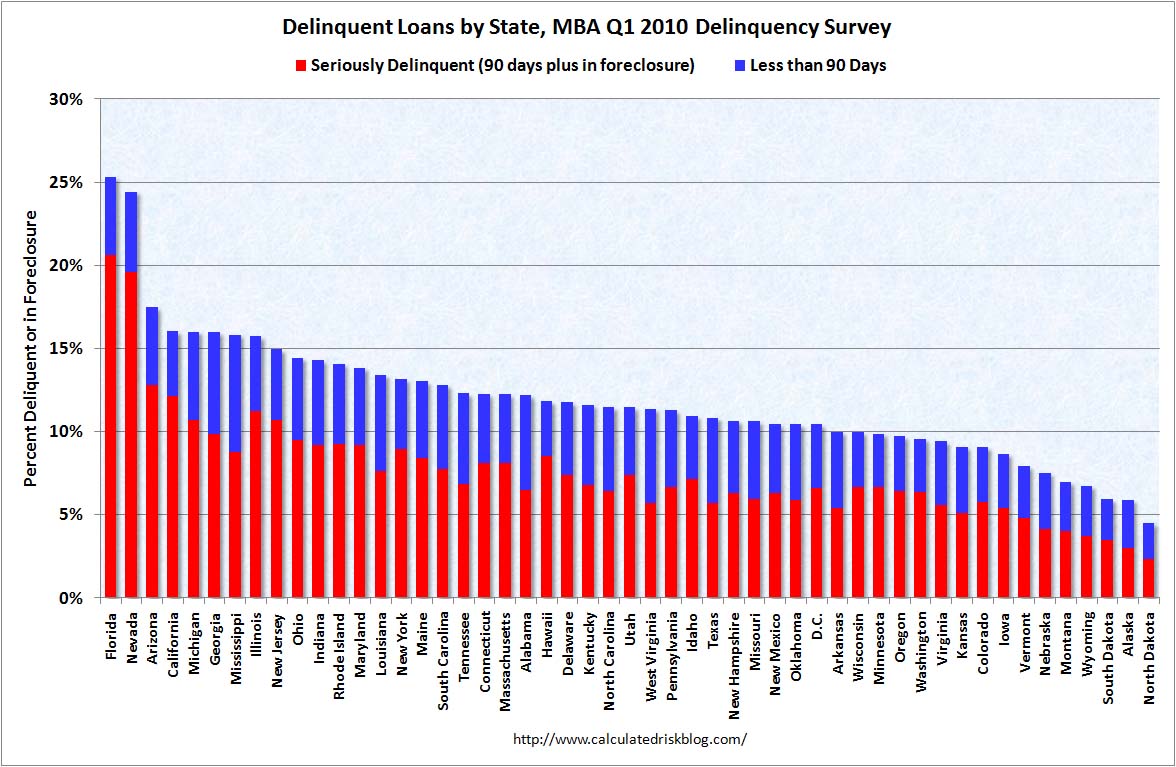 Source:Â  Calculated Risk
As you would expect the foursome of Nevada, Arizona, Florida, and California have the most troubled mortgages.  What a program like HAMP did was give the false impression that somehow homeowners would be saved by generous help from banks.  The only thing the program created was a tiny window of false hope on a shoestring budget while the real funds were diverted to Wall Street.  Now why have these programs failed?  Because many homeowners really have no ability to pay their mortgage.  And then you have a growing number that can pay their mortgage but decide to stop paying.  What does this translate to?  An incredibly low cure rate:
Carefully examine the above chart.  Once mortgages go 60 days late, they are virtually a lost cause.  The ability to cure mortgages is at all time record lows.  A program like HAMP was fighting the above powerful trend.  Keep the above in mind when you read the following data on distressed mortgages:
"(MBAA) The delinquency rate includes loans that are at least one payment past due but does not include loans in the process of foreclosure. The percentage of loans in the foreclosure process at the end of the first quarter was 4.63 percent, an increase of five basis points from the fourth quarter of 2009 and 78 basis points from one year ago. This represents another record high.
The combined percentage of loans in foreclosure or at least one payment past due was 14.01 percent on a non-seasonally adjusted basis, a decline from 15.02 percent last quarter.
The serious delinquency rate, the percentage of loans that are 90 days or more past due or in the process of foreclosure, was 9.54 percent, a decrease of 13 basis points from last quarter, but an increase of 230 basis points from the first quarter of last year."
So the bulk of the 14 percent of distressed loans are 90 days or more past due or in foreclosure.  The cure rate for this territory is horrible.  We can run the quick numbers if we like:
U.S. total mortgages:Â Â Â Â Â Â Â Â Â Â Â Â Â Â Â Â Â Â Â Â  51 million
Loans in foreclosure:Â Â Â Â Â Â Â Â Â Â Â Â Â Â Â Â Â Â Â Â Â  2,361,300 (approximately)
90 days late or more (but not in foreclosure):Â Â Â Â Â Â Â Â Â Â Â Â Â Â Â Â Â Â Â  2,504,000 (approximately)
We have a potential pipeline of 2.5 million more foreclosures (almost assured in the 90 day group).  Then you have another 2.5 million with at least one missed payment that have a low cure rate as well.  This doesn't seem like good news to me given the horrible cure rate on these loans.  Part of the problem is with the overall economy.  Even though strategic defaults are growing, 4 out of 5 foreclosures occur because people cannot pay for their mortgage.  Then you have loans in California of the Alt-A and option ARM variety and you can easily understand why the housing market is in for another round of adjustments.
A few of you sent over a startling chart from USA Today showing the growing amount of government payments as a share of national income: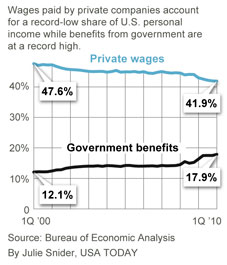 Source:Â  USA Today
Key shifts in income this year:
"Private wages. A record-low 41.9% of the nation's personal income came from private wages and salaries in the first quarter, down from 44.6% when the recession began in December 2007.
Government benefits. Individuals got 17.9% of their income from government programs in the first quarter, up from 14.2% when the recession started. Programs for the elderly, the poor and the unemployed all grew in cost and importance. An additional 9.8% of personal income was paid as wages to government employees."
The economy is not recovering is how I read the above.  Unemployment benefits and food stamp payouts are at record levels.  This is not a sign of a healthy economy.  I know some want to spin this as good data but it really is a mirage.  I always see these studies that show how wonderful it is that all this spending helps the economy.  I realize that it is useful to have a safety net but please don't spin this as a solid economic boost.  If that were the case, why don't we just guarantee everyone a $100,000 annual income for life?
The housing market is already pulling back only one month after a few government programs ended.  We have millions receiving unemployment benefits and roughly 40 million receiving food assistance.  Until we see this trend reverse and employment growing in a healthy way without government assistance, we can rest assured that any talk of a housing recovery is merely an elaborate trick.